Couture Fashion Week is a multi-day event showcasing couture and luxury fashion.
It also includes exhibits of luxury brands and fine art as well as world-class entertainment and receptions. The event is
Couture held at the Waldorf-Astoria in New York City and occasionally in other selected cities and is attended by upscale consumers, invited VIPs, the press and high-end store buyers. Fashion Week offers unique branding opportunities for luxury products and services.
Visit the event website for more information and tickets: www.CoutureFashionWeek.com
[divider]
Accomplished fashion designer Yana Benhuri will make her debut at Couture Fashion Week
In New York City at 8:00 p.m. on Saturday, September 17, 2011. The fashion show will be held in the iconic Grand Ballroom of the world-famous Waldorf-Astoria hotel.
Professionally trained in Europe, Yana Benhuri worked and studied in Italy and has traveled extensively consulting on art, fashion and design. A former fashion model, Ms. Benhuri is now the designer, creative director and owner of YB Couture.
Ms. Benhuri is noted for her skill in transforming design ideas from classic into modern, from very simple to glamorous; but most importantly she is able to bring to life a variety of styles based on her cultural and artistic experiences and innate creativity. In addition to her beautifully crafted fashion designs, Ms. Benhuri also creates stunning handbags, shoes and other accessories.
Yana Benhuri has designed for high profile celebrities her designs have been worn at events such as The Golden Globe Awards, The Tony Awards and The Academy Awards.
Visit the designer's website for more information:http://www.ybcreation.com/[divider]
Theatrically Inspired Designs by Evgenia Luzhina-Salazar
to be Shown at Couture Fashion Week New York
---
Accomplished fashion and costume designer and artist Evgenia Luzhina-Salazar will make her debut at Couture Fashion Week
in New York City at 6:00 p.m. on Friday, September 16, 2011. fashion show will be held in the legendary Grand Ballroom of the world-famous Waldorf Astoria hotel.
A native of Moscow, Russia, Evgenia Luzhina-Salazar received a B.A. in Fine Art and Design from Moscow Art College in 1980. Following graduation, Ms. Luzhina-Salazar served as Resident Set and Costume Designer for the Moscow Chamber Forms Theater. While there, she designed numerous productions which were staged in Los Angeles and Moscow. In 1991, Ms. Luzhina-Salazar moved to the United States where she has continued her career in art and theatrical set and costume design.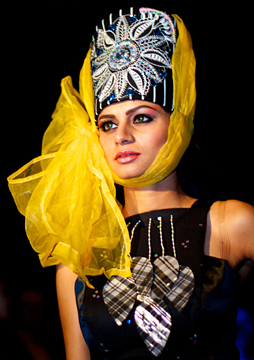 Ms. Luzhina-Salazar's experience includes co-founding and working as a set-costume designer for the Stanislavsky Theater Studio and serving as a resident set and costume designer for several theaters including the Moscow Chambers Forms Theater (Russia), The Heliotrope Theater (CA, USA), The Hallam Theater of Prince George's Community College (MD), Classika-Synetic Theater (VA), The Stanislavsky Theater Production Studio (DC), Open Theater (MD), Silk Road Dance Company (MD), The Prince George's Children Theater, and the Teen Performance Ensemble (MD).
Her most recent accolade was receiving the Helen Hayes Award 2010: Outstanding Production for Youth. She was also recently chosen to participate in attend the 7th Annual Maryland Fashion Week Showcase, August 2011.
The inspiration for Ms. Luzhina-Salazar's latest collection to be shown at Couture Fashion Week in New York is the "kokoshnik", a traditional Russian women's headdress. The kokoshnik has been worn along with the serafan dress for centuries, and is now most often seen in Russian folk costumes. One of the costumes worn by the character of Princess Padmé Amidala in the Star Wars saga (the "Gold Travel Costume"), was based on the Russian national costume with the kokoshnik.
Visit the designer's website for more information: http://www.luzhina.com/[divider]
Art by Renowned Surrealist Michael Cheval to be Exhibited
at Couture Fashion Week
One of the fine artists and other product and service exhibitors at the next Couture Fashion Week event in New York City will be award-winning surrealist artist Michael Cheval. Mr. Cheval's paintings will be on display at the prestigious event on September 16-18, 2011 at the Waldorf-Astoria in New York City.
A native of the small town of Kotelnikovo in southern Russia, Michael Cheval grew up among paints and brushes, canvases and easels. His grandfather, a professional artist and sculptor, encouraged Michael's love for drawing in his early childhood. At age 3, he could already draw complex multi-figured compositions, illustrating his fantasies and impressions.
In 1980, Mr. Cheval and his family moved to Germany. The new setting made a great impression on the young artist. Museums and castles, ancient streets and the wonderful landscapes of southern Germany permanently defined his tastes and predilections. Always interested in history and literature, Mr. Cheval became absorbed in music, organizing a band and devoting a number of years to rock 'n' roll. He composed songs and wrote poetry.
After finishing school and serving in the Soviet Army, Mr. Cheval moved to Nebit-Dag, a Turkmenistan city in the middle of the Kara-Kum desert, near the Iranian border. He absorbed Oriental philosophy and the character of Central Asia, and worked as an independent professional artist, shaping his style and surrealistic direction. He collaborated with several theaters and publishing houses in Nebit-Dag and Ashgabad and earned a degree from the Ashgabad School of Fine Art. Mr. Cheval's first solo exhibition was held at Turkmenistan's National Museum of Fine Art in 1990. A few years later he moved to Moscow where he worked for a number of publishers including the prestigious Planeta publishing house.
Michael Cheval's decision to immigrate to the USA in 1997 marked the start of a new epoch for the artist. He returned to the Western culture that greatly inspired him in his youth, but now he brought his own experience, philosophy and vision. In 1998, he became a member of the esteemed New York National Arts Club, wherein 2000 he was recognized with the Exhibition Committee Award at the annual club exhibition.
Mr. Cheval regularly exhibits in various New York and European galleries. He is a member of the Society for Art of Imagination (London, UK) participating in the Association's annual exhibitions.
Since 2001, Mr. Cheval's work has been shown at Art Expo, the international trade show held annually at the Jacob K. Javits Convention Center, New York. In 2003 Mr. Cheval participated in the famous "Brave Destiny" exhibition, held in the Williamsburg Art and Historical Center in Brooklyn along with such celebrated artists like H. R. Giger and Ernst Fuchs. In 2006 his work was included in the "Feast of Imagination" exposition at the H.R. Giger Museum Gallery, Switzerland. In 2008 he was accepted as a participant in the "Dreamscape 2009" exhibition in Amsterdam and his work was included in the books Dreamscape and Dreamscape 2010 along with 50 world-famous surrealist artists.
In 2009 Michael Cheval's work was selected to be included in the Best Of Worldwide Artists, Volume I book series (Kennedy Publishing, USA), and in the same year he was recognized with the Palm Art Award by the Palm Art Award Jury and Art Domain Gallery (Leipzig). In 2010 Mr. Cheval's art was published in the Danish book Imaginaire and he participated in "April's Fool", an exhibition organized by Fantasmus Art.
Michael Cheval recently completed the official portrait commissioned by world-renowned actress and artist Gina Lollobrigida.
Mr. Cheval's first monograph album Lullabies was published in collaboration with Interart Gallery in 2003. In 2007 he published his second album, Nature of Absurdity, that defines his unique style and vision. Absurdity is a starting point of his creations. He identifies his art with the Theater of the Absurd of Beckett and Ionesco and the films of Greenaway and Bunuel.
Visit the artist's website for more information: http://www.chevalfineart.com/
---
Top Designer Walid Atallah Returns to
Couture Fashion Week with Latest Luxurious Collection
Walid Atallah, one of the Middle East's top fashion designers, will make his third appearance at Couture Fashion Week in New York City at 6:00 p.m. on Saturday, September 17, 2011. The much-anticipated fashion show will be held in the legendary Grand Ballroom of the world-famous Waldorf Astoria hotel.
After graduating from high school in his native Beirut, Mr. Atallah went on to earn a degree in fashion design from the University of Chicago. Soon after he launched his design career in the fast-growing city of Dubai. His unique designs quickly found a loyal following among sophisticated fashion lovers. Mr. Atallah had his first fashion show in Dubai in 1996 which was enthusiastically received by the industry and which included such special guests as famous Lebanese singer Najwa Karam and top international model Nathalie Fadlallah. His next fashion show was held at the world-renowned Burj Al Arab hotel, presenting an opulent collection to a discerning audience, including royalty.
Since then, Mr. Atallah has presented his memorable collections at dozens of fashion events throughout the Arab world as well as in the fashion capitals of Italy and France, where he received an excellence in international design awards from the French Association of Fashion Designers. His two appearances at Couture Fashion Week in New York in 2009 and 2010 were widely applauded and enthusiastically received. In early 2011 Mr. Atallah was invited to show his latest bridal collection as a special guest designer at the prestigious International Wedding Exhibition and Fashion Show in Doha, Qatar.
Mr. Atallah has become well-known internationally for his exquisite evening and bridal designs, and for his skillful use of diamonds, precious gems and genuine Swarovski crystals, including a fabulous bridal gown valued at US$1.2 million. In 2005 Mr. Atallah debuted his own line of luxury jewelry made with diamonds, rubies, sapphires, emeralds, blue marine and Tahitian pearls, and fine watches have since been added to the line. The talented and versatile designer recently launched his pret-a-porter line entitled "W", which includes trendy jeans and tops for today's fashionable and modern woman.
Walid Atallah's accomplishments in the fashion industry have been recognized by numerous awards and honors from many prominent dignitaries and professional organizations. His distinguished clientele includes many members of Middle Eastern royalty as well as well-known celebrities including singers Diana Haddad, May Hariri, Najwa Sultan, Hoda Haddad, Haifa Wehbe, Najwa Karam and Nanci Ajram. Mr. Atallah is on the advisory board of Dubai Fashion Week and has been selected by the Diamond Trade Company (part of the DeBeers group of companies) to be a judge at a diamond jewelry design competition in the Arabian Gulf region.
Walid Atallah continues to expand his business and reputation as one of the Middle East's top designers with branches currently in Al Ain (UAE), Qatar, Lebanon, Saudi Arabia, and Libya.
Visit the designer's website at www.walid-atallah.com[divider]
Amal Sarieddine To Show Signature Opulent Designs
at Couture Fashion Week New York
Award-winning Middle Eastern fashion designer Amal Sarieddine will make her third appearance at Couture Fashion Week in New York City with a much-anticipated fashion show to be held at 8:00 p.m. on Friday, September 16, 2011 in the legendary Grand Ballroom at the world-famous Waldorf-Astoria hotel.
Amal Sarieddine is a young Lebanese fashion designer following in the footsteps of her mother, acclaimed designer Nawal Sarieddine, who established her own prominent design house some forty years ago. After earning her degree in fashion and interior design from the Lebanese American University, Amal launched her own collection in Beirut in 2004, a city synonymous with luxury couture style and home to such fashion icons as Elie Saab, Georges Chakra, and Georges Hobeika. Amal's designs were immediately applauded and sought out by the cream of Middle Eastern society including many celebrities and the royal families of Saudi Arabia, Kuwait, Qatar, and the United Arab Emirates. Her clientele also includes prominent socialites and celebrities from Europe and the United States.
A talented designer is known for her lavish and opulent evening and bridal gowns, Amal Sarieddine has presented her collections in the Middle East, Paris, and Hollywood. Her debut at Couture Fashion Week New York in 2009 with a stunning collection entitled "Eve", was warmly received. Her designs have been featured in such prominent fashion publications as Collezioni Haute Couture, ModaStyle International, and Book Moda.
For more information, visit the designer's website: www.amalsarieddine.com
Couture Fashion Week New York
IMPress will be at the show and will report with videos and images of the fabulous designs and presentations.
September 16-18, 2011
The Waldorf-Astoria, Grand Ballroom, 301 Park Avenue, New York City
Press and Trade
Pass and Confirmation
Publication/ Organization: International Press Assoc.
Name: Leonard Rapoport
Title: Editor-In-Chief