ABN AMRO World Tennis Tournament, Rotterdam – Roger Federer was in sublime form once again during the finals at Rotterdam and set up the dream final at the event beating Argentine Juan Martín Del Potro in straight sets 6-1, 6-3 in front of a delighted crowd.
[dropcap]I[/dropcap]t was the first time the tennis hero had played at the event since winning the title in 2005 and the sporting giant was in demand left, right and centre by organisers, media and of course his fans.
With all of the expectation and heavy demands heaped upon his shoulders, it's not very often you meet a sportsperson who is a tennis legend (arguably the greatest of all time), a master of his craft and one of the most humble and down to earth individuals you are likely to meet.  Despite all of his success and fame, here is Roger Federer. The Swiss maestro is a former world No.1, 16-time Grand Slam champion and winner of 71 titles after lifting the trophy in Rotterdam, the Netherlands, yet speaking to him is like chatting to a person you have known your whole life as he is completely unchanged by his extraordinary success.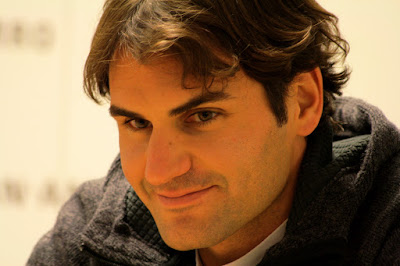 Throughout the week in Rotterdam, Federer committed himself to many media obligations to help with the publicity of the tournament and to encourage more people to come to the tournament thanks to his presence – and what a difference his presence made to the event. Richard Krajicek, former Wimbledon champion and the Tournament Director, was pleased to announce it had a record number of spectators at the event during Federer's opening match (9952), which was even more than last years final.  This was the Federer effect.
Obliging to all media requests, Roger Federer attended a packed media conference on the opening day and shortly after he tried to appease the disappointed contingency that were hoping to see him in action on the opening day by having an open practice session on Centre Court with Del Potro, as he was not playing that day. This was not something that either player had to do, but their kindness shone through as they trained under the watchful eye of thousands of fans hoping to catch a glimpse of the stars on court.  Once again the Federer effect had filled the seats, even for a thirty-minute practice session.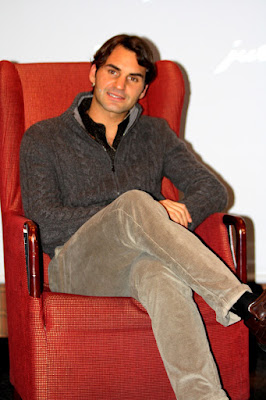 The final obligation for the Swiss was a sponsorship event at the Manhattan Hotel in Rotterdam for JURA coffee makers, where he was interviewed in front of exclusive guests before participating in a media conference.  He discussed other things close to heart aside from his tennis, including the charity work he does for his Roger Federer Foundation.
[quote]"My mum has always reminded me that when I do have the opportunity to give back in some shape or form, it doesn't always need to be financially it can also be something you donate, it can be just time you donate, going to a project, helping other projects, whatever that could be is a very important thing. It has been many years I have had my own foundation and I'm still learning in the process because I'm not a professional kind of charity guy, but I try my best."[/quote]
The compassionate sporting champion shared what charity is close to his heart and the length of time which he has been dreaming about helping children:
[quote]"My dream has always been to support the kids in some shape or form so that is something I try to give back in terms of education we look at kids between 5 years old and 14 and it's usually the age range that we are looking at because I believe that education s not something you can take away from someone…"[/quote]
Shortly after, the Swiss star fulfilled more obligations and participated in a meet and greet with his visitors.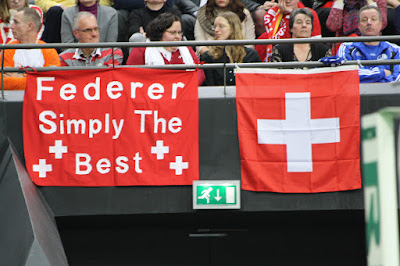 Throughout the whole tournament on route to victory Federer continued to show how much he appreciated the support from his fans and people who traveled a long way to watch him play tennis. His practice sessions were swamped with people clambering all over each other to snap a picture of their champion training and after every match, dozens of fans scrambled close to the player exit area in hope of an autograph or picture.  This is the Federer effect.
Even after winning the tournament the tennis champion remained on court for an extended period of time to sign as many autographs as possible for the children and ensured he thanked the ball children for their hard work during the week.  Roger Federer is a great brand for tennis but more importantly he has proven time and again what a great sportsman he is and ambassador for the sport.